We need to stop saying "I hate (insert policitian)" in front of our children.
I'm guilty too. The torrential downpour of TV ads. The politicians and talking heads decrying the skeletons in each other's political closets. Politicians sizing up each other's spouses and children…
It's easier just to sum it all up with "I hate _________!" as I scroll through my Facebook news feed.
But then I I look up from my cell phone and I'll notice a couple kids standing behind me. Most kids don't know the difference between a Social Conservative and Democratic Socialist. But they do know what hate is.
And when they hear us declaring our hate for the a politician we see on TV, our the kids figure out pretty quick that the person you hate is someone that you disagree with.
So when we say,"I HATE Hilary or Trump or whoever it is you hate"
Our kids hear, "I hate people who disagree with me."
I know this because in 3rd grade I remember sitting in the backseat of my father's wood sided Oldsmobile station wagon, as Rush Limbaugh shouted about how much he hated Bill Clinton.
And I heard my father mutter "I hate Clinton" in agreement as he gripped the steering wheel.
The only thing I knew about Bill Clinton was that he played sax on Animaniacs.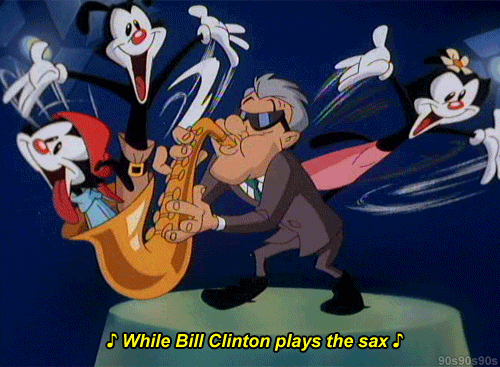 I had never Bill Clinton and I was pretty sure my Dad hadn't either. But I was sure that my dad hated Bill Clinton's guts.
A few month later, my 3rd grade class held a class vote between Bill Clinton and George Bush.
These were my best friends in 3rd grade:
We would shout our views on the Chicago Bulls and Teenage Mutant Ninja Turtles, but I'm pretty sure none of us could have told you the difference between Republicans and Democrats.
But when the votes were tallied there were 23 votes for Bush and 1 vote for Clinton.
After the votes were totaled I heard my friend Brian sobbing in the back of the room. It was obvious that he was the sole vote for Clinton.
I looked back at him and couldn't believe that my friend Brian voted for the guy my dad hated.
My teacher knelt by Brian's desk rubbing his back as he sobbing into his Ninja Turtles T-shirt.  "It's okay Brian" she whispered.  Then slammed his fist and shouted, "NOW EVERYONE IS GOING TO HATE ME!"
Like I said, kids know what hate is.
I'd love to say that watching Brian sob into his shirt was enough to prevent me from ever saying "I hate _______".  But every election cycle the worlds come fountaining out of my hypocritical mouth.
And when I hear people say "I hate this or that politician" I realize that I'm not even sure what they are trying to say.
I realize now that my dad didn't hate Bill Clinton as a person but he did hate a number of his policies.
But again, this can be confusing to kids.
Do we hate the way the politician does their job?
Like the way I hate my internet provider's lazy costumer service.
Do we hate their policies?
Or do we actually hate them…as people? Probably not.
And if you do, you may want to think hard about whether its appropriate to hate someone you've only seen on TV. So the next time you find the word hate hurtling up your throat, swallow it. Take a deep breath and remember our kids are watching us.
Be clear. Tell you kids what you don't like about this or that politician.
Or better yet, tell them about a politician you are excited about.
Tell them about a new law that you think could really make a difference in people's lives.
Because you kids will probably be a part of some political conversation this election cycle. And take it from me. Hating politicians eventually leads to tear filled Ninja Turtles T-shirts.
*And to all the Trump haters, this is especially important. Because chances are, what you hate about Trump is that he…well hates people who are different than him. But if our kids hear you shouting, "I HATE Trump!" aren't we ultimately teaching them to hate someone that is different. Let Trump's message of hate die with his campaign. Be specific about what you dislike about Trump – at least when your kids are around.